We all love the comfort and versatility that a pontoon boat provides. Being able to relax, enjoy watersports, and cruise down the channel or lake. The pontoon you currently own or have in your mind could be drastically different from what current-model pontoons offer today.
Today's pontoons come with modern conveniences and performance options that could completely change the way you use your pontoon.
Read along as we take a look into some exciting new features and options that will make you want to upgrade your pontoon today!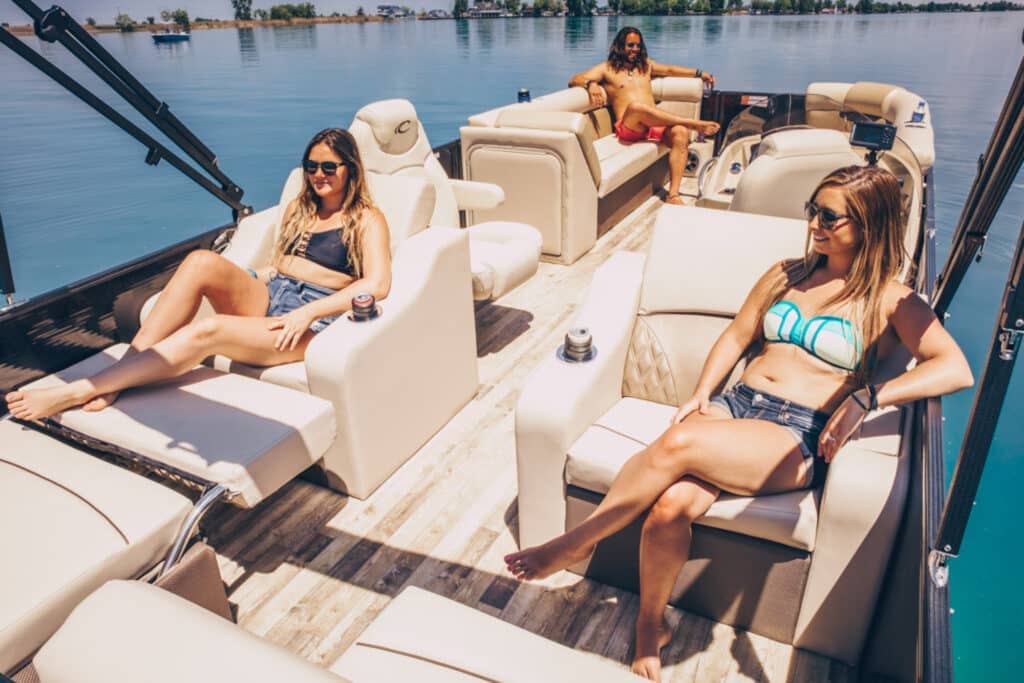 Pontoon Boat Comfort and Convenience
Summer days bring the heat and sometimes you need to take a break from it. That's where the bimini comes into play.
What's better than a bimini? A powered bimini. They're a convenient and comfortable feature that makes it easy to escape the heat with a push of a button.
Other amenities include cupholders at every seat, LED lighting, and rear loungers that take relaxing to the next level.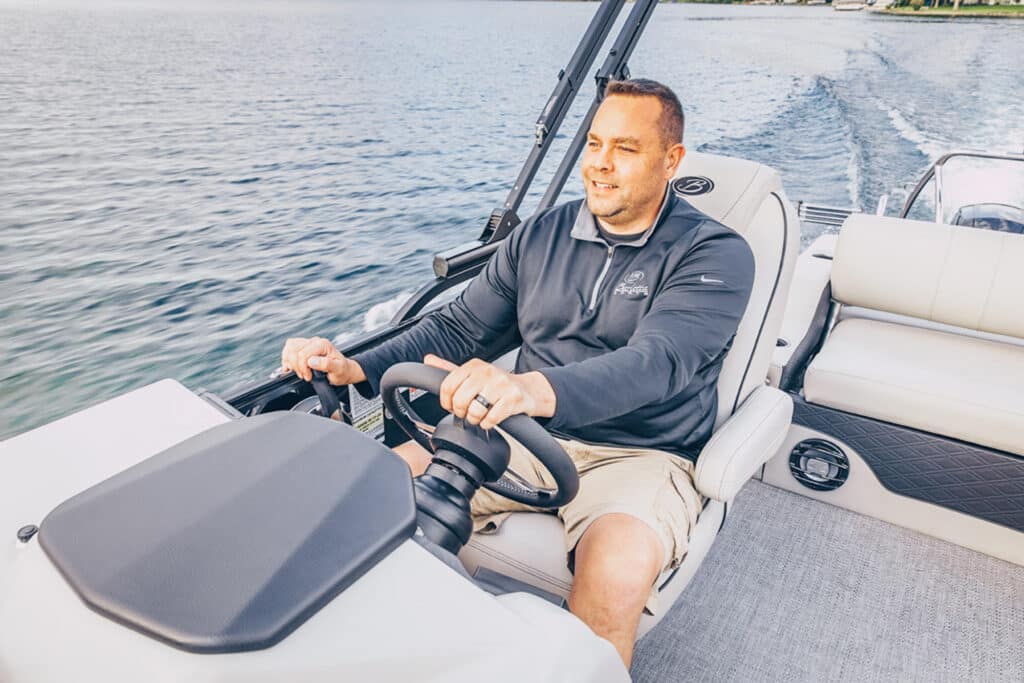 Captain's Helm
The captain's chair is the best seat in the house on today's pontoon boat. Everything you need to keep everyone comfortable out on the water is right at your fingertips.
Garmin and Simrad displays give the captain complete control of the pontoon and Bluetooth audio creates the best audio experience to enjoy with your family.
Some unique features of pontoons that we carry are extended legroom at the helm of Barletta pontoons or digital throttle and tilted steering wheel of Crest pontoons.
Needless to say, you'll be driving in style regardless of which brand you choose.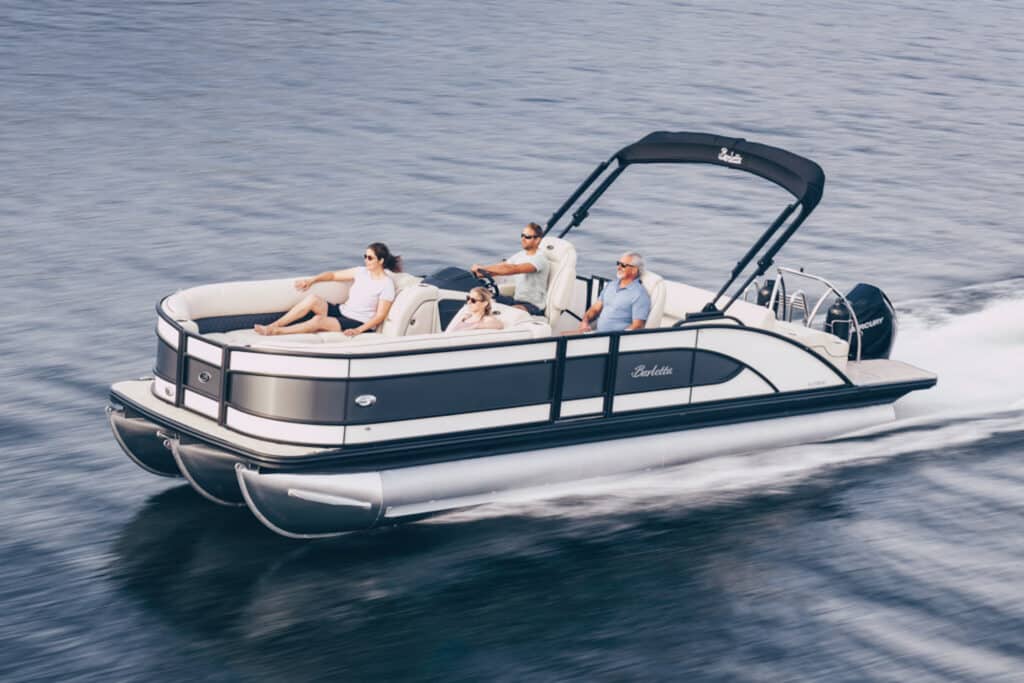 Performance Options
Pontoons can come in a pontoon (two aluminum tubes) or a tri-toon (3 aluminum tubes).
Depending on how you would like to use your pontoon, you may need extra horsepower and a tri-toon to accommodate the extra performance. Most pontoons can be equipped with a variety of different horsepower options. You can go from 50 HP to 400 HP and everything in between.
Pontoon boats are fully capable of towing anyone behind them for water sports such as wakeboarding, skiing, or tubing. This is one of our biggest reasons why we see customers upgrade from an older pontoon.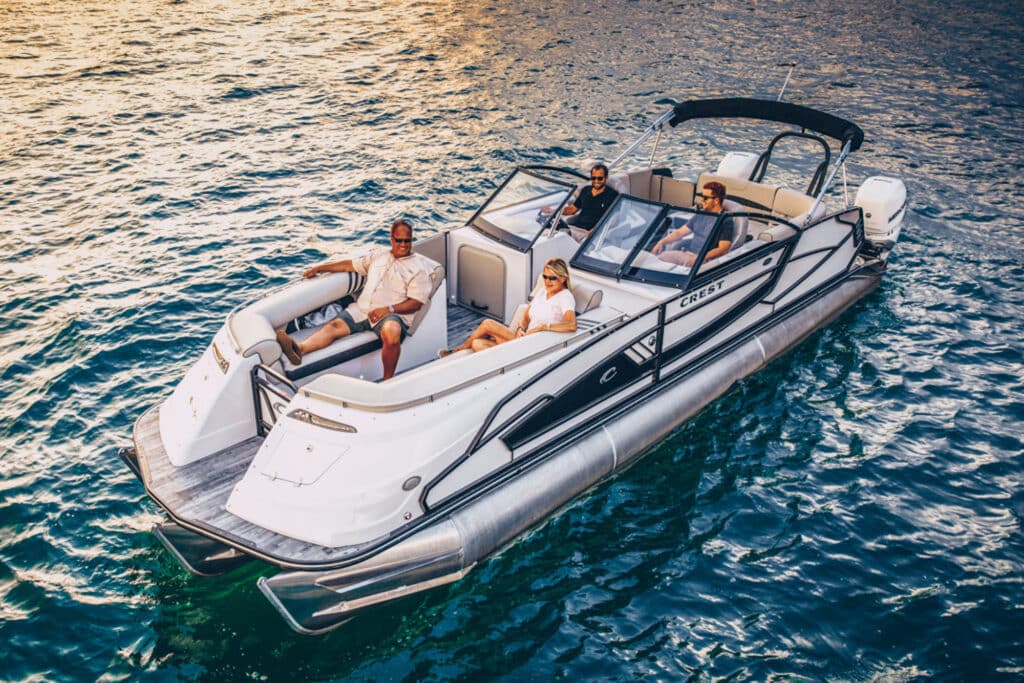 Sport Edition Pontoon Boats
Who said that a pontoon couldn't be sleek and sporty? Most brands of today now carry a sports edition in their pontoon line.
Barletta pontoons feature their Corsa series, a sleek and customizable pontoon built for those looking to let loose on the water.
The Corsa features 3 different layout options: the quad lounger, ultra lounge, and ultra entertainer. These layouts allow you to enjoy your time on the water in the perfect configuration for you and your family.
Crest comes in with the Caribbean RS, a loud and unique head-turner that keeps the party going all day long. The Caribbean is known for its fun look and feel that makes everyone enjoy their time on the water.
The Caribbean took what you might call a "party barge" and beautifully integrated that with a performance vessel, a match that can't be overlooked.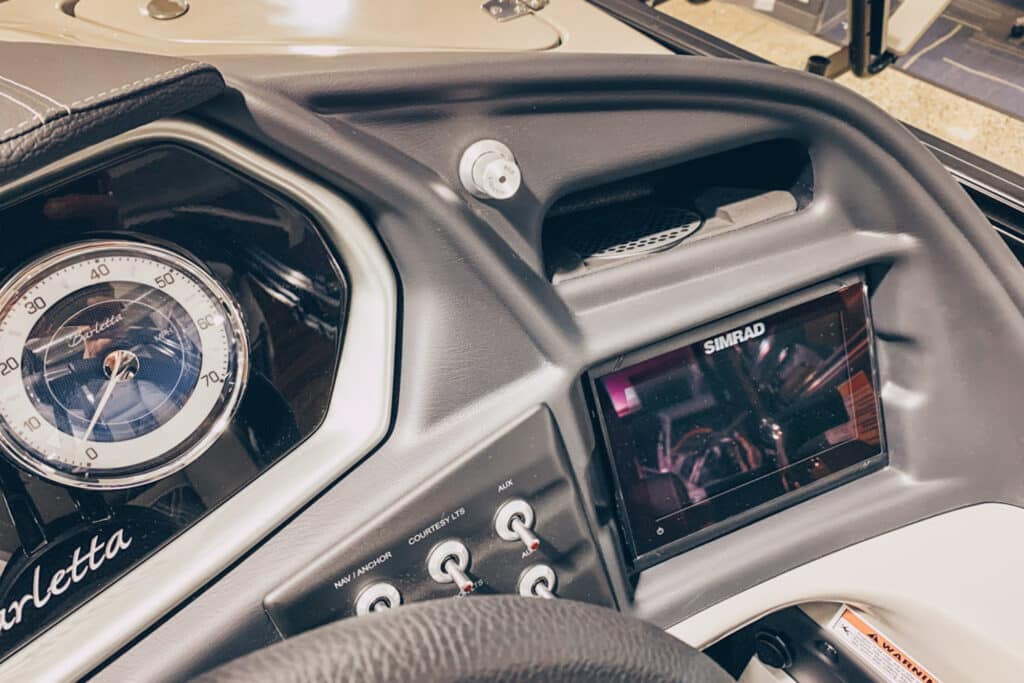 Charge it Up
Who doesn't have their phone on them nowadays? Nothing is worse than hitting the water only to find out that your phone is dead and you can't listen to your favorite tunes.
With most modern pontoons, USB chargers come standard throughout the pontoon.
Another awesome feature we commonly see for the driver is a wireless charging pad that is easily accessible. This ensures that you're always able to use your cell phone whenever you need to go out on the water.