MasterCraft is known for providing a high-performance water sports experience throughout their entire lineup. No matter which MasterCraft you choose, you're guaranteed to have an amazing experience on the water.
With three main series, the NXT, XT, and X, each one takes a slightly different approach to water sports and boating. The sleek and sensible NXT has a handful of standard features that provide everything you need to get skiing, wakeboarding, and surfing. The XT comes with a boost in luxury and upgradable options, making you and your passengers feel more comfortable in the boat and out on the water. The X boasts world-class waves, unmatched luxury, and superior technology. Upgrades and comfort come standard.
For this article, we've outlined all the differences between the XT and X series. We've also compared MasterCraft's NXT vs XT series.
MasterCraft XT Series
The MasterCraft XT series sets itself apart from the competition with its options and flexibility all while delivering maximum performance. With FIVE different size offerings (20, 22, 22T, 23 and 24 feet), the XT lets you decide between a smaller boat with a serious wave or a larger model with plenty of space and comfort.
New for 2022, the XT can be equipped with sunpad flip-up seating, step pads, and the new SurfStar System while the transom walkthrough and Z6 tower with clamping board racks come standard. The XT allows you to pick what is most important and leave off what upgrades you can live without.
The upgradable towers, Z8 and Z10, offer the most customization on the market. The Z8 tower debuts MasterCraft's new Hydro-Lock technology while the Z10 brings the power tower to the mid-level series. Learn more about the easiest folding towers in the industry here.
You get your boat your way with the XT. Pick from other premium options such as MasterCraft's CoolFeel Vinyl, premium audio system, and five different models: XT20, XT21, XT23, XT24, and XT25. The XT Series starts surf-ready at $152,799 or $1,089/mo*.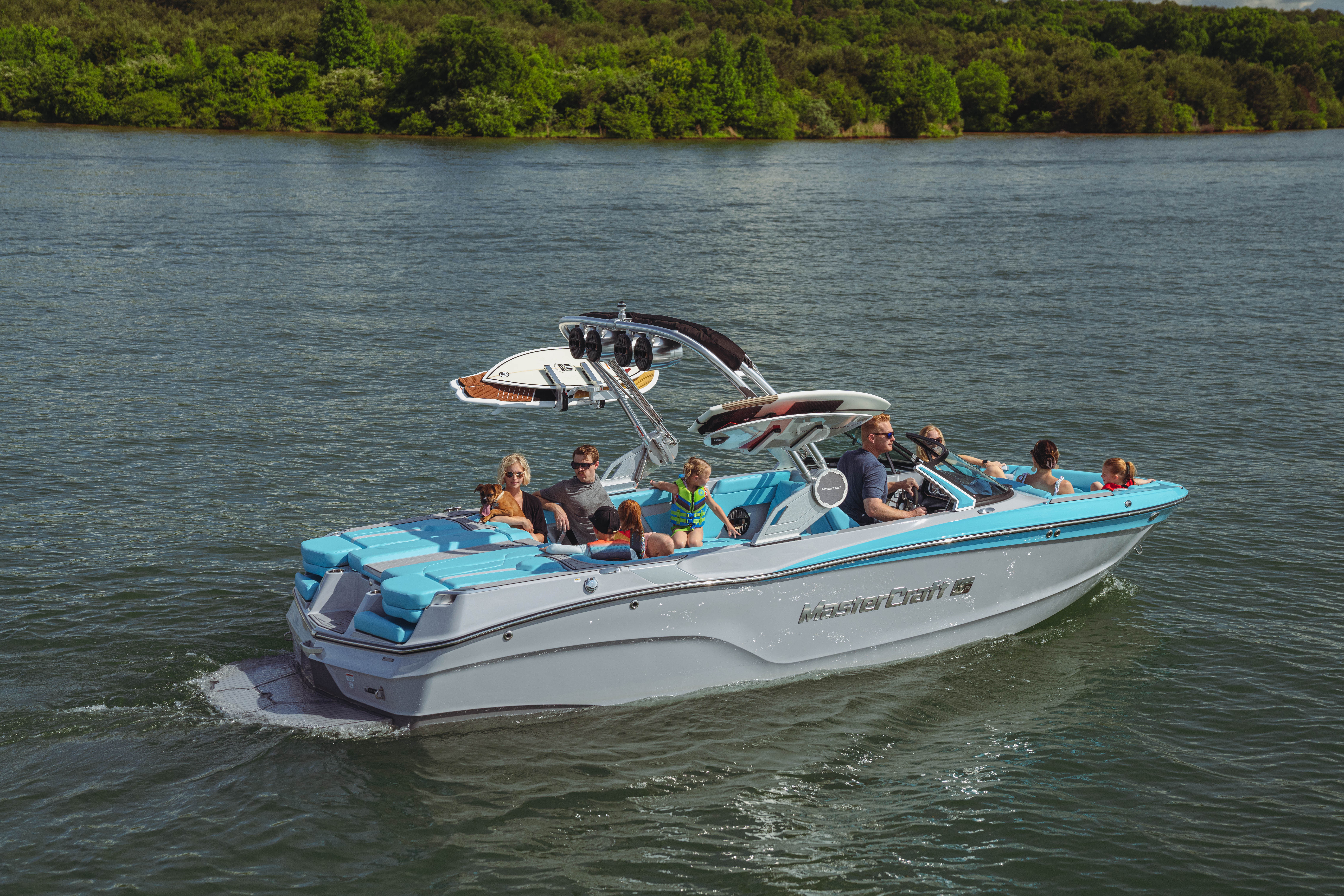 MasterCraft X series
The MasterCraft X series separates itself by taking all the upgradable options of the XT Series and making them standard. Custom-tuned Klipisch audio, dual-screen dash, a deeper hull design, and added ballast make the X series an absolute envy on the water. Designed to be the best in the towboat industry, the X Series blends comfort and sophistication with power and performance.
Available in three lengths—22, 24, and yacht-certified 26 feet—each size is designed to give you the best ride inside the boat. And with upwards of 4300 pounds of ballast, the new SurfStar System, and a standard 6.2L Ilmore engine, the X Series delivers the perfect wake for all riding levels behind the boat. Here are all the features you can only get with the X series:
Upgraded transom seating
The XT series comes with a variety of interior customization options; however, the transom lounge seating truly sets the series apart from the rest of the MasterCraft lineup. The comfortable and ergonomic seating even features a flip-out footrest. It's arguably the best seat in the house.
FastFill Ballast System
Another standard feature for the X series: the FastFill Ballast System. FastFill ballast pumps are designed to move water through the ballast system and in/out of ballast tanks three times faster than standard pumps. Ultimately, you'll spend more time surfing and less time waiting. We have a video that explains the FastFill System in detail: Action Overview | MasterCraft FastFill Ballast System
Switchback Ballast Tank
The patented Switchback Ballast Tank unlocks unprecedented surf waves. Before MasterCraft's invention, it was common to sit passengers on the side of the wake in order to create a bigger and cleaner wave. Luckily, those days are behind us. With Switchback Ballast Tank's perpendicular design, water can flow freely from port to starboard and vice versa meaning the ballast is automatically adjusted to the surfer's side. Learn more about the MasterCraft Switchback Ballast System.
It's in the details
While the XT Series has plenty of customization and features, the X Series delivers on the finer details such as armrests in the bow, a modern and convenient glovebox, contoured seating, premium upholstery, and wireless phone chargers. New upgrades for 2021: supreme board racks and the most intuitive stern thrusters on the market. No matter where you dock, you have ultimate control.
The X Series starts surf-ready at $218,399 or $1,549/mo*.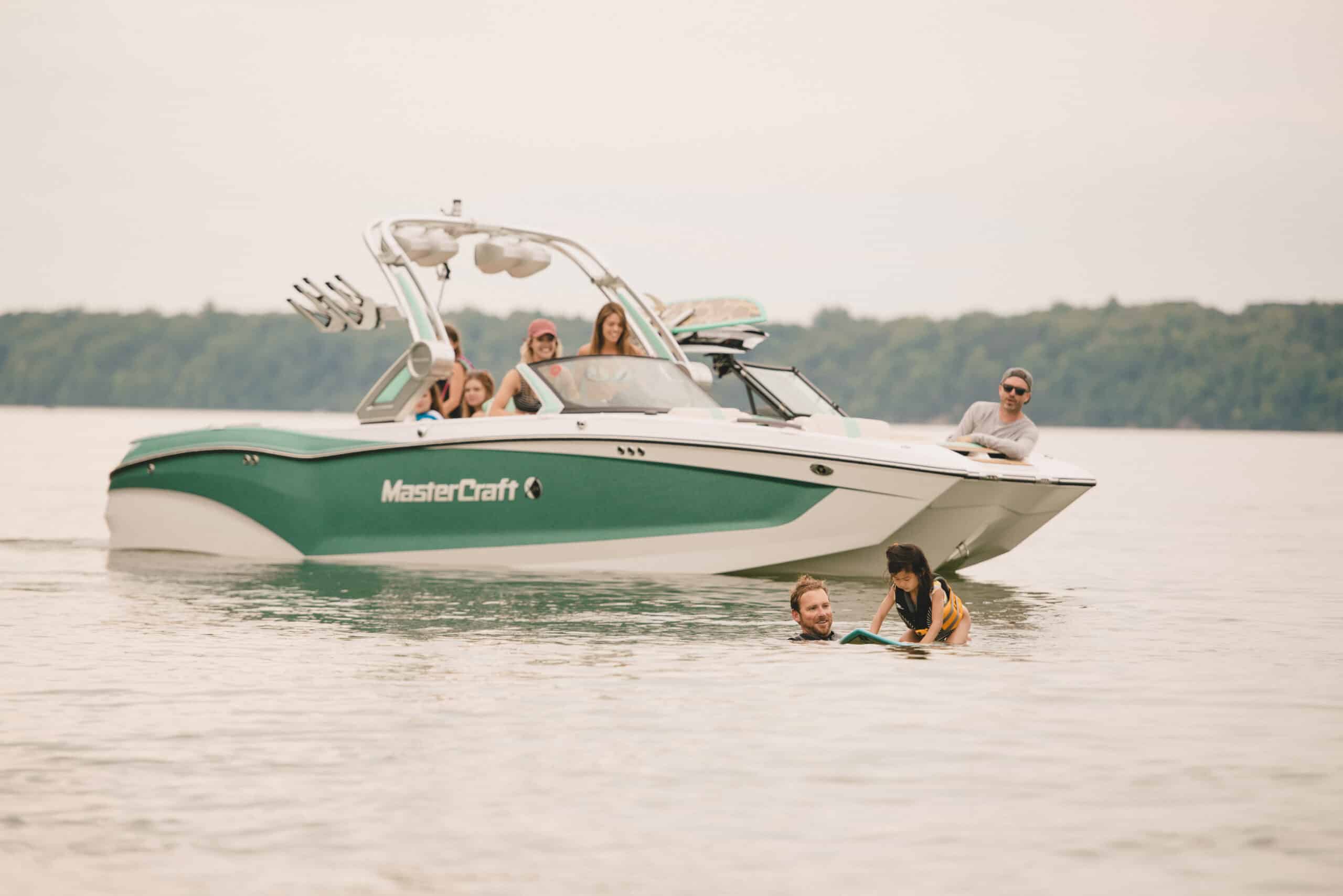 Key Features
 MasterCraft XT Series
Three tower options (Z6, Z8, Z10)
Dash upgrade options (7-inch touchscreen dash and dual-screen dash available)
Plenty of dry weight and ballast
Five length options: 20, 22T, 22, 23, and 24 feet
Contoured seating with option for CoolFeel vinyl
Color customization options
New hull and interior seating design for 2023
Available in pickle-fork or traditional bow
SurfStar System available
Transom seating available
MasterCraft X Series
Three length options: 22, 24, and yacht-certified 26 feet
Color customization options
Standard premium dash and audio
Three tower options (Z6, Z8, Z10)
Standard underwater exhaust and 6.2L Ilmore engine
Transom lounge seating available
Standard SurfStar System
FastFill Ballast System
Switchback Ballast Tank
Deeper hull design
More ballast capacity (for example, the XT24 has 3,600 lbs of ballast, the X24 has 4,300 lbs of ballast)
Thank you for sharing the water with us!
Please click below to connect with your local Action Water Sports. We're always happy to help!
*Prices, product specifications, and all other information shown on this website are for information purposes only and are subject to change at any time without obligation. Monthly payments calculated with 20% down at 8.49% for 240 months.