Barletta Pontoon Boats is the fastest-growing pontoon manufacturer in the world. In only a few short years, they have established themselves as one of the highest-end brands in the industry. With innovative technology complementing their heavy-duty construction, these boats have quickly caught the eye and heart of boaters.   
One big question always comes up when people step foot into one of these luxury pontoons which is, "How much does a Barletta cost?" We're here to help you understand the price of Barletta's and how that price can vary.  
Keep reading to learn about what a Barletta costs and what factors influence the cost. We also hope that reading this article will give you a glimpse at what could be your dream boat. 
What is MSRP? 
First, it's important to understand the term MSRP, or Manufacturers Suggested Retail Price. Every boat comes with MSRP pricing based on what the manufacturer determines the boat is worth. Though, it's not uncommon to pay a little less than MSRP on a boat.  
Here at Action Water Sports, we often run promotions throughout the year to get you a great deal on a Barletta. Check out our website or stop in your local Action Water Sports for the most accurate pricing related to MSRP.  
What Factors Determine the Price of Barletta? 
Barletta's occupy a wide range of prices because of several reasons. These factors include –  
Series 

 

Engine 

 

Options and Upgrades
As a result of the variation of these factors, the overall price of the boat will vary. Keep reading for more information about these influential factors.  
The Barletta Series 
Barletta has five series in their fleet of boats. Each series has a different set of standards and features that make them significant. Simply put, the difference in the Barletta Series is that they have different trim levels. As you move up through the series, you will notice they gain more intricate designs and features. With more standards and features as you move through the series, the price will also increase.   
Aria Series 
The Aria series is named the first step into luxury. This boat incorporates all the beloved DNA that set every Barletta above the bar. Standard features such as VIP technology, pet-friendly features, power bimini, and versatile floorplans make this boat stand out against competition.  
Starting at a price of $43,900 or $335/month*, these boats are affordable luxury. Check out an Aria at your local Action Water Sports location to see what sets the Aria apart from other pontoons.   

Cabrio Series 
Next in the Barletta lineup is the Cabrio series. This series offers several more standard features than the Aria series without jumping too high in price-point. Some of these features include a raised helm, an extended swim deck, and a lockable glovebox.   
A Cabrio starts at a price of $53,900 or $339/month*. For several innovative features to enhance your time on the water, check out the Barletta Cabrio series at your local Action Water Sports. 

Corsa Series 
For those looking for a sporty take on a luxurious pontoon, check out the Barletta Corsa series. These boats are built with a heavy-duty chassis that provides the smoothest ride in the industry. The Barletta Corsa can be equipped with larger motors than the Aria and Cabrio series because of the strong transom built into the chassis.  
The Corsa is reinforced with toons that are 26 inches in diameter. This feature helps support more weight and length that is on this series. Along with an upgraded design, this series of boats are the ultimate luxury pontoon for those who enjoy a sporty look.  
The starting price of a Barletta Corsa is $72,900 or $559/month*. To check out a Barletta Corsa in person, visit your local Action Water Sports.  

Lusso Series 
The core boat of Barletta is the Lusso. This was the first boat that was ever produced by Barletta Boats and is the luxury model everyone knows and loves. With elevated designs and features throughout the boat, this luxury pontoon is the industry's finest.  
The Lusso features anchor storage at the bow of the boat and cooler storage on the port side stern of the boat. These added features along with the enhanced design aspects throughout the boat make this series one of the most highly sought-after pontoons in the industry.  
Starting at a price of $99,900 or $769/month*, the Lusso series is for those seeking high-end luxury. Check out a Lusso at your local Action Water Sports to see one of these luxury pontoons in person.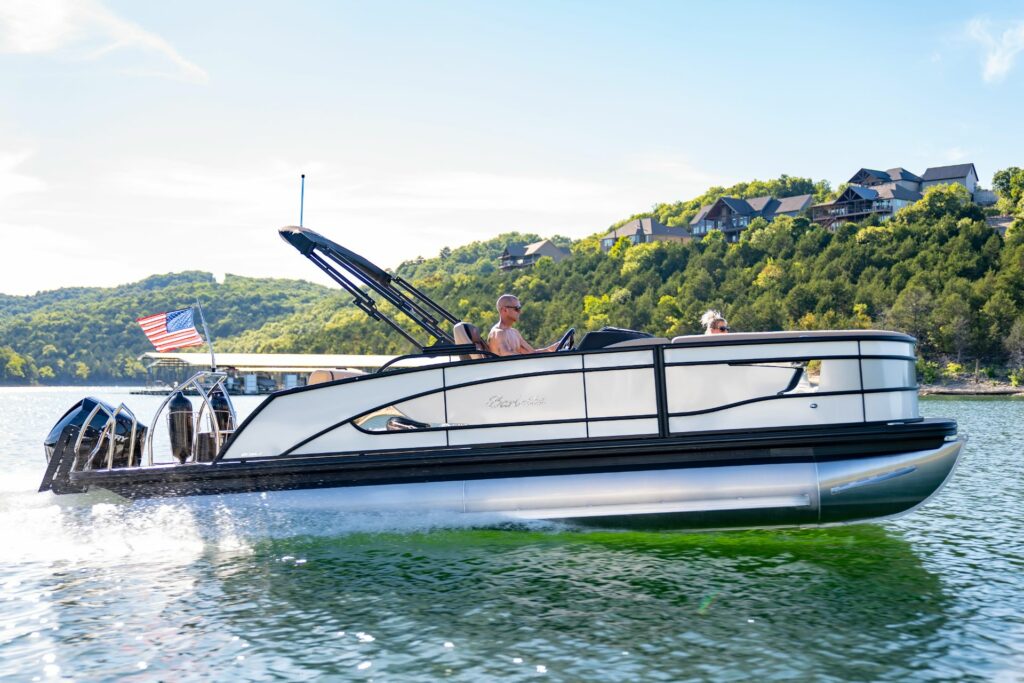 Reserve Series 
Finally, we move to Barletta's flagship series. The Barletta Reserve is the most premium pontoon that has entered the market yet. Being the only boat in the Barletta fleet with a fiberglass exterior rather than the traditional aluminum, this boat stands out on the water.  
This boat is also equipped with luxury features such as a telescoping hard-top tower, Harmon-Kardon sound system, and an all-glass touchscreen dash, along with other exciting features. The Reserve is meant for those who want to stand out on the water while enjoying time in the most luxurious pontoon in the industry.   
For pricing, give your local Action Water Sports a call. They will be able to get you pricing information as well as more information on this premium series of boats.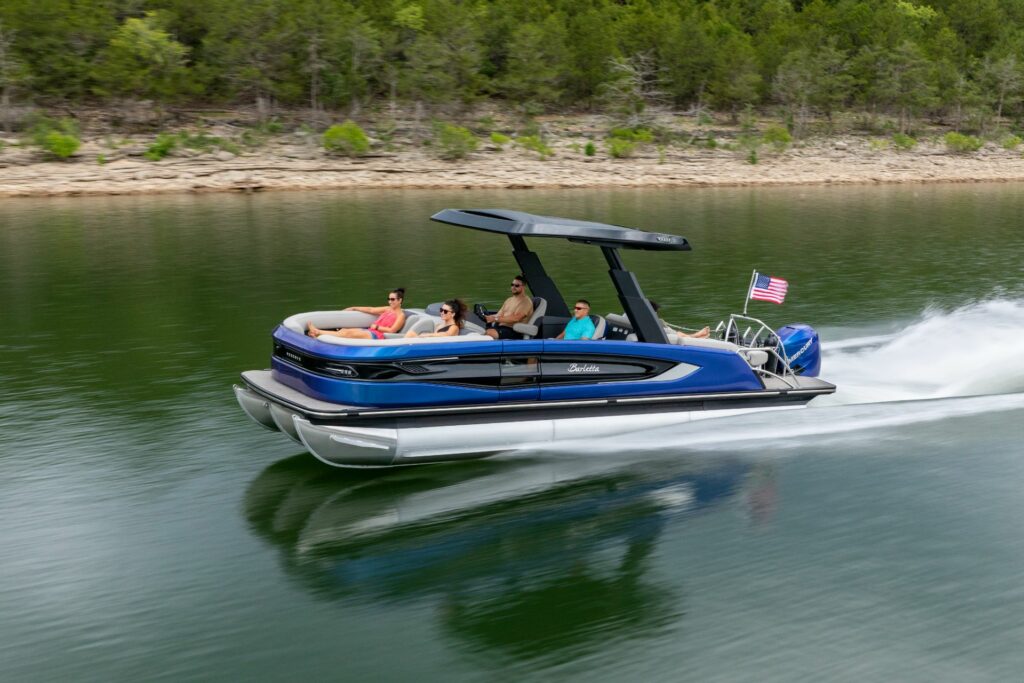 How Much Does a Motor Cost? 
One factor that will significantly change the cost of your boat is the motor you choose. Outboard motors range from 9 HP motors to massive 450 HP engines. The drastic changes in Horsepower will result in a wide variety of prices.  
Each Series has a Horsepower limit due to the construction of the boat. Check out Barletta's Build-a-Boat to see what the limit is on the different series of boats. For questions regarding the different prices of outboard motors on a Barletta, contact your local Action Water Sports.  
Do Options and Upgrades Change the Total Price? 
Options and upgrades will oftentimes change the price of the boat. Depending on what you desire to be on your boat, the prices will vary. Each series has its own set of available options and upgrades.   
Barletta has constructed their boats to have the largest number of standards in the industry. This makes it easier to know exactly what you're getting on your boat. Though, there are some options such as a double-bimini, blackout rails, and a changing room along with several others allow you to personalize your Barletta.   
Which Barletta is Right for You? 
No matter which Barletta you decide is the best fit for you, your family, and your lifestyle, you will be pleased with these luxury boats. Each Barletta is crafted with the same DNA that separates all Barletta's from competitors.  
Now that you understand price segments on these different series, you can fully understand what the price of a Barletta is. Though there are variations in the prices, this article gives you a starting spot to understand the different prices. 
*Excludes used and brokerage boats. Prices, product specifications, and all other information shown on this website are for information purposes only and are subject to change at any time without obligation. 240 months, 8.99% APR and 20% down.   
*With approved credit. Terms may vary. Tax, Title, and Registration included in prices shown and must be paid by the purchaser*. While great effort is made to ensure the accuracy of the information on this site, errors do occur so please verify information with your local Action Water Sports.