Which is best for you?
When searching for the right pontoon for you and your family, there are plenty of different options and accessories to consider. How many passengers will you have? What type of engine will you need? Will you be doing water sports? All of these are important to take note of during your pontoon search.
Pontoons (bi-toons) and tri-toons both have their advantages, but which one is right for you? In this article, we'll take a quick look at why a pontoon, or a tri-toon might be the perfect boat for you and your family.
 Not Your Grandpa's Pontoon
The stigma of a pontoon being a worn-down floating hunk of junk on the water is most people's first thought when it comes to a pontoon. However, the pontoons of today have many of the modern luxuries of most high-end cars or towboats.
At Action Water Sports we carry Crest Pontoons and Barletta Pontoons. Both brands bring a sporty aesthetic while having many modern features such as USB ports, power biminis, LED lighting, and high-quality sound systems.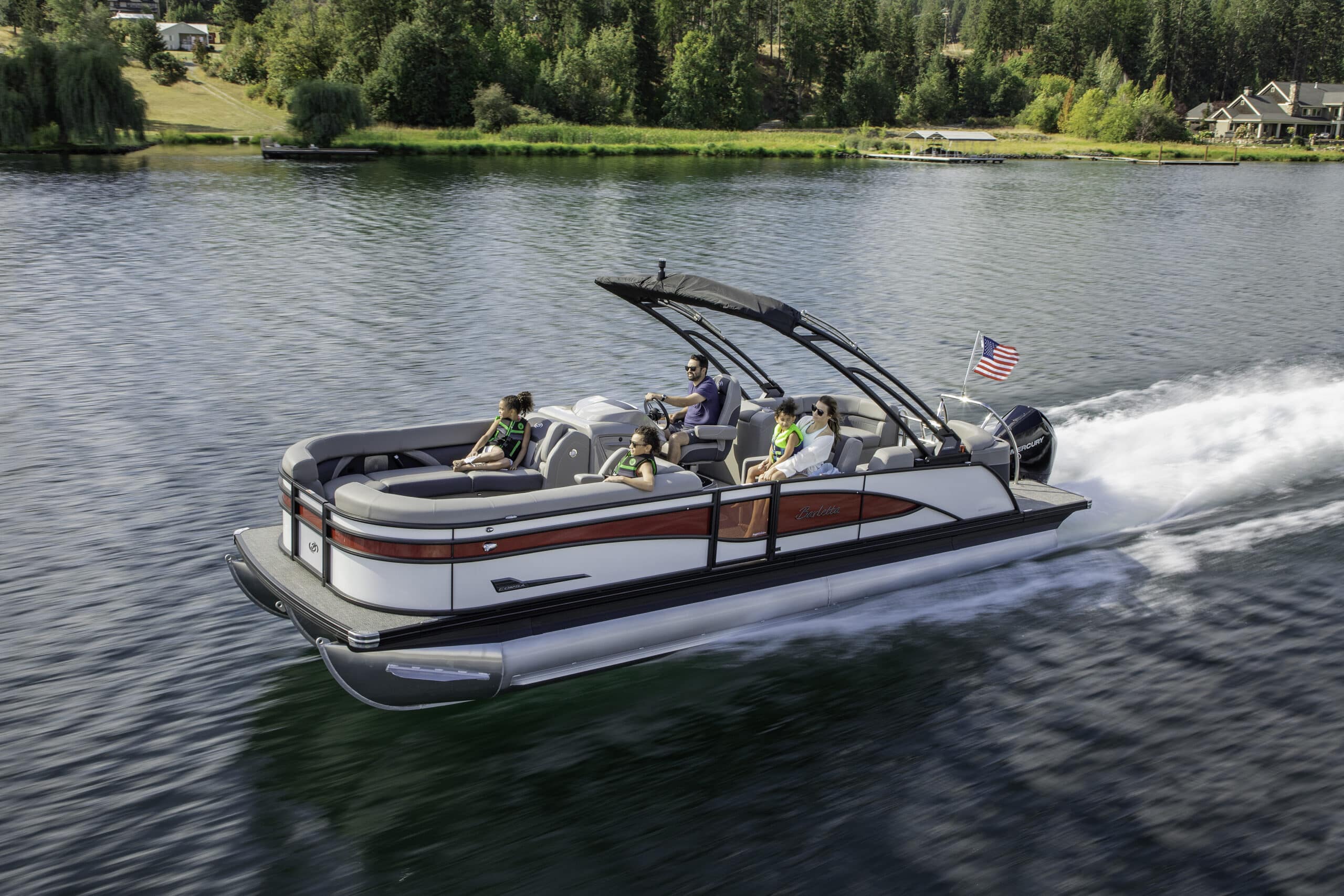 Pontoon vs. Tri-Toon
For those just interested in a pontoon boat for the first time, there are two primary types of pontoons. A "bi-toon" (a pontoon with two aluminum tubes underneath the deck) or a tri-toon (three aluminum tubes underneath.)
Depending on the deck size, you can continue to add toons but the most common are bi & tri-toons. Bi-toons are the most common form of a pontoon boat and are what most people envision when thinking about a pontoon. In smaller bodies of water such as small lakes or rivers, they are a great option for slowly cruising or just enjoying the water.
By adding an extra toon, you add stability and overall capacity. That's why tri-toons are a great option if you're boating on larger lakes or channels. Tri-toons also handle chop and rough waters better than a pontoon. With this increased stability you'll be able to enjoy a more comfortable ride in rougher water and also be able to upgrade your horsepower for higher speeds.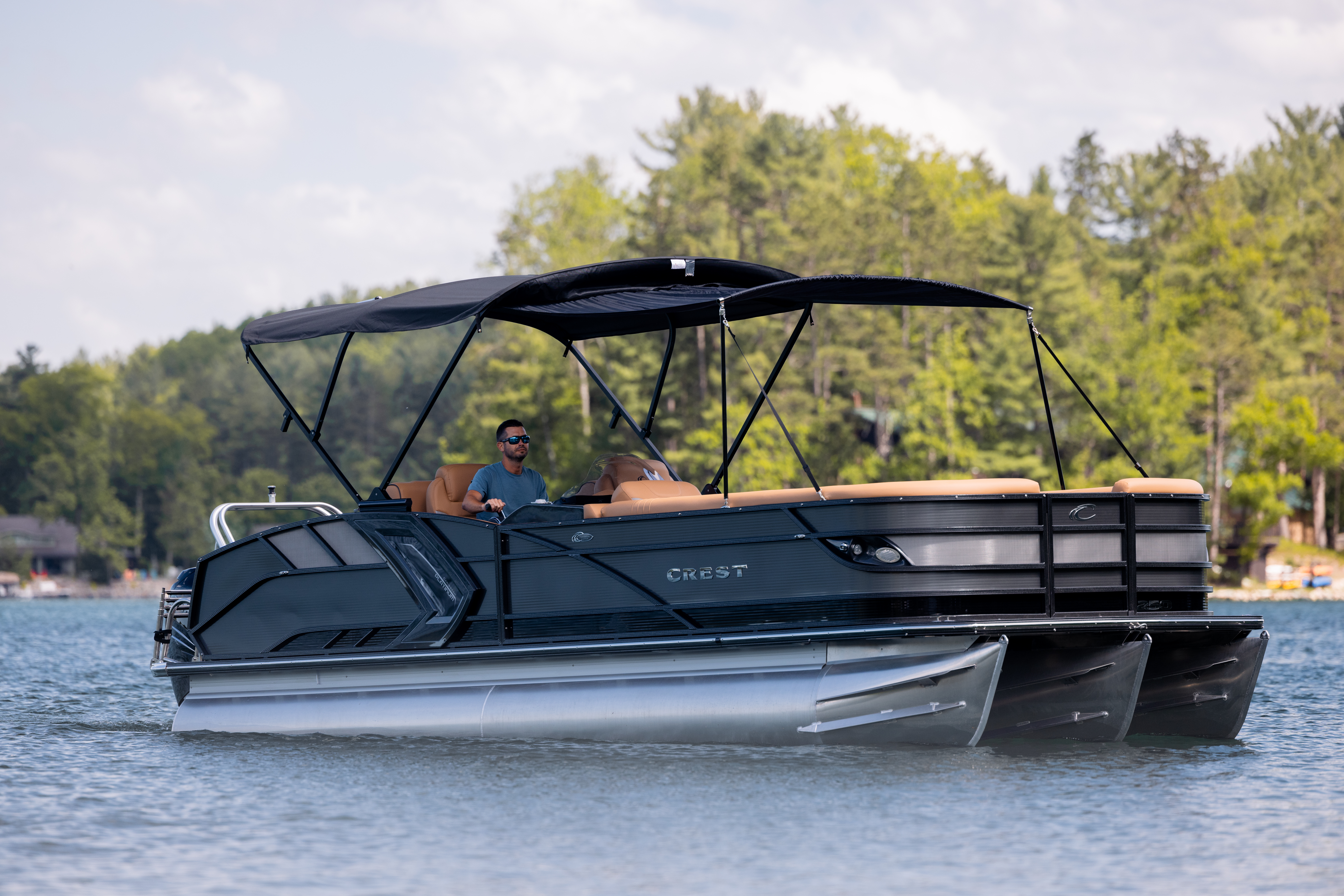 Space and Comfort
One of the biggest draws for the average consumer to a pontoon is the amount of space and comfort they provide. Generally, pontoon boats offer a wider deck space with large seating areas and lounge space. Most pontoons come in a standard length of between 20 – 22ft.
For those looking to host large groups or families, we recommend looking at a tri-toon. Again with a tri-toon you can increase your boat's capacity and extend the length of the toons in order to optimize the space on your pontoon.
Barletta and Crest both offer different seating configurations so you can customize your pontoon, your way. If you're looking for something to really get the party going, Barletta offers a sliding pontoon with an expandable deck. While Crest pontoons offer a Captain's Cooled Cup Holder that keeps your drinks cold all day long.
Other options such as bimini's, sound systems, and interior styles are all things that you should discuss with your sales associates during your pontoon search.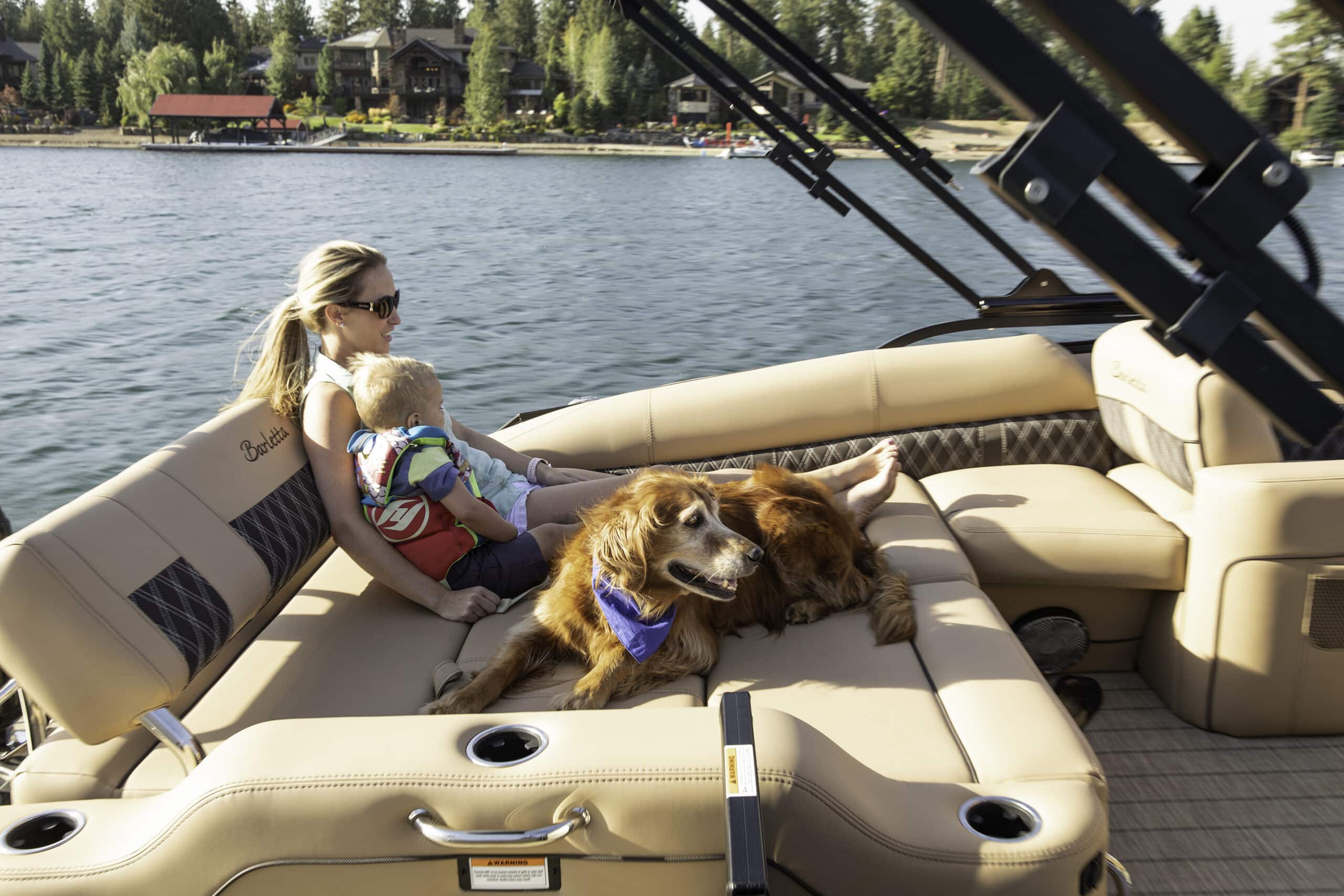 Thank You!
We hope that this brief guide helps you in your search for the perfect pontoon for you and your family, to view our full pontoon inventory click here. If you have any other questions about options or about pontoons in general, please feel free to reach out to your local Action Water Sports. We're always happy to help.