"Bringing Families Together" has been our number one focus since we started selling MasterCraft boats, way back in 1990. Recently, we had an opportunity to catch up with one of our local families and spend an afternoon on the water with them in their new MasterCraft NXT.
Presenting, the Graetz Family.
"We spend a lot of time enjoying time together as a family."
Brandon and Shaina Graetz both grew up around boating. In fact, they grew up right next door to each other as kids. That's a great story in itself, we're sure. Today, they are sharing the boating lifestyle with their two young girls, who both enjoy tubing, wakeboarding and wakesurfing with their family.
The smiles on the girls faces match their cries of joy as they go flying across the water together on a tube. Not long after that, one of the girls is up and riding her wakeboard, which she's just recently started doing. The camera was on her, and she was feeling confident to ride outside the wake, going toeside for the first time ever. More cheers of joy from the family!
Pretty soon, it was Dad's turn to have a surf. Brandon grabbed a vest, switched ropes and jumped into the water with the equal enthusiasm of his two girls. Seeing her husband's nod, Shaina hit the throttle and they were off. MasterCraft's preprogrammed surf system dialed in the perfect wave, while cruise control keeps the speed right on point for Brandon.
Then, it was Mom's turn to jump in the water with her skis. Brandon dialed-in Shaina's desired speed settings and prepped the rope for her. She gave a quick nod, and soon she was up and ripping, back and forth across the wake, grinning from ear to ear as they all made their way back home for dinner.
Just another beautiful day on the water for this young MasterCraft family!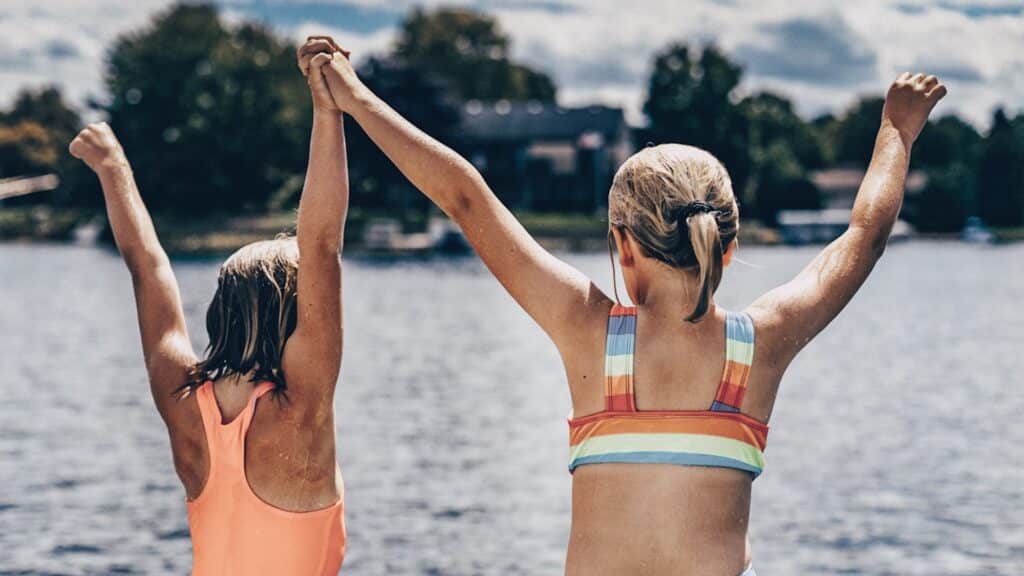 Thank you again to the Graetz family for allowing us to have a little glimpse into their world that day. We hope you enjoy their story and find happiness in pursuit of your own adventures on the water.