Action is proud to announce the addition of MasterCraft and D3 Ski's athlete, Freddie Winter, to the Action Water Sports team. But, prior to him joining, we put him through a rigorous line of questioning to make sure he was Action team material. Needless to say, we think he'll fit in just fine. Read on as he fills us in on everything from how he sets up his ProStar to more important questions like what animal's best represent his personality.
So Freddie, tell us a little about yourself. What's your background? What got you into skiing?
I'm originally from London, England but I have lived in Florida for about three years now, having previously studied at a university in Louisiana. I've been skiing in pro events in the USA since 2013 and I'm the current World Champion and Masters Champion in slalom.
Regarding my background, my parents have been skiing every weekend together for about three and a half decades so I naturally didn't have a choice but to be at the lake with them. So it made sense that I'd end up skiing. I guess you could call it lucky that I loved it. Now I'm the one that takes it more seriously than them, but we still ski together in England in the summers or when they come out to The Boarding School to make sure I'm surviving without them.
What are the differences/similarities between the water ski culture in England compared to the U.S.?
I can only speak with any real experience of Florida and Louisiana. There are many similarities but a few differences. People are braver, or, perhaps dumber in the UK when it comes to braving the elements. I used to ski through the winters when we'd break the ice up so we could get out there. My parents still do, along with many more up and down the ski clubs in the UK. On that note, private boat ownership in the UK is far less common given the limited amount of lakes. Generally, people get on the water by joining ski clubs who buy the boat and charge for rides. I worked at one of those for 8 years growing up. These boats get a lot more hours in then what you'd see over here. I skied for a summer on a boat with 4500 hours!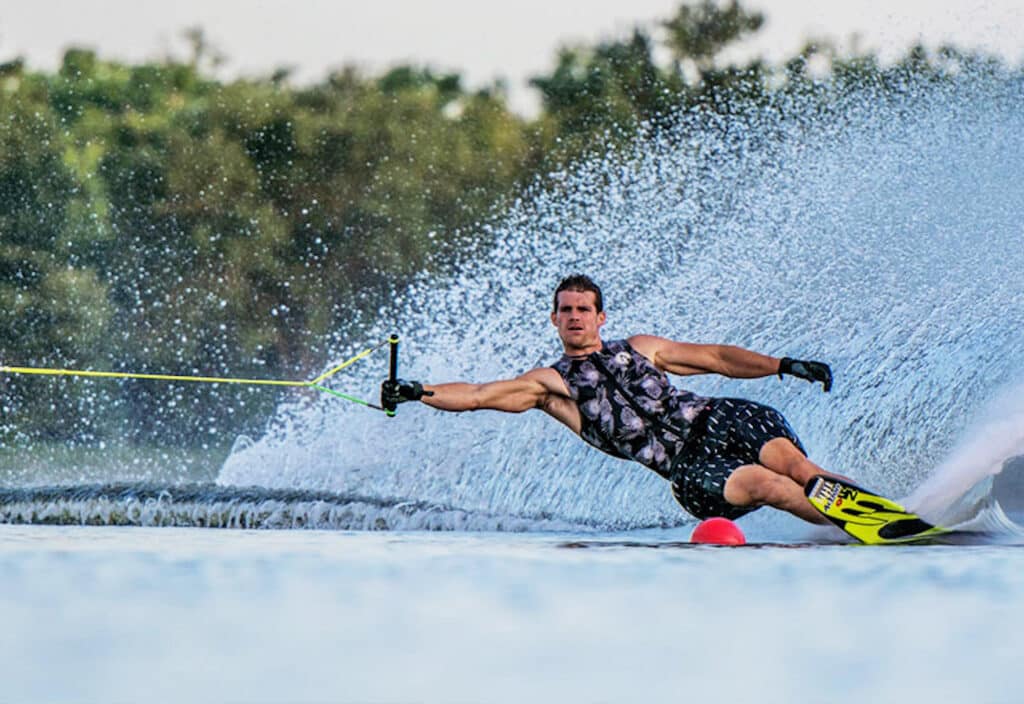 You recently made the switch to D3 Skis. What spurred this transition?
I decided to be a free agent last year, taking the time to work out the best ski for me instead of signing a quick contract without having full confidence in the equipment. I got on the D3 at the end of last year and realized it was a great ski; something I could win tournaments on. After that I approached D3 about joining the team and it went from there. They've been very good with me. It's my first real sponsorship with serious support in the background which has made life easier.
You were one of the driving factors to us picking up D3 in our Central Florida location. Tell us a couple reasons a D3 might suit our customers needs.
They're easy to use. I don't want a ski that tries to do everything for me but something that works with me. I find that the ski is forgiving and acts in a way that is intuitive and not surprising. I've heard more than a few times since the switch that I look smoother on the ski. I'd say that's something that any skier would want to hear. I'm also less sore this year which could be a coincidence, but I have a feeling the smooth ride of the ski has something to do with it.
When I think of D3, I think of high-end, competitive skier. Does D3 cater to only the elite? Or do they offer a product for the intermediate/open water skier?
Working at The Boarding School in Orlando I see a lot of skiers come through of all levels and often they'll be using D3's. The ease of use allows anyone to ski on them effectively.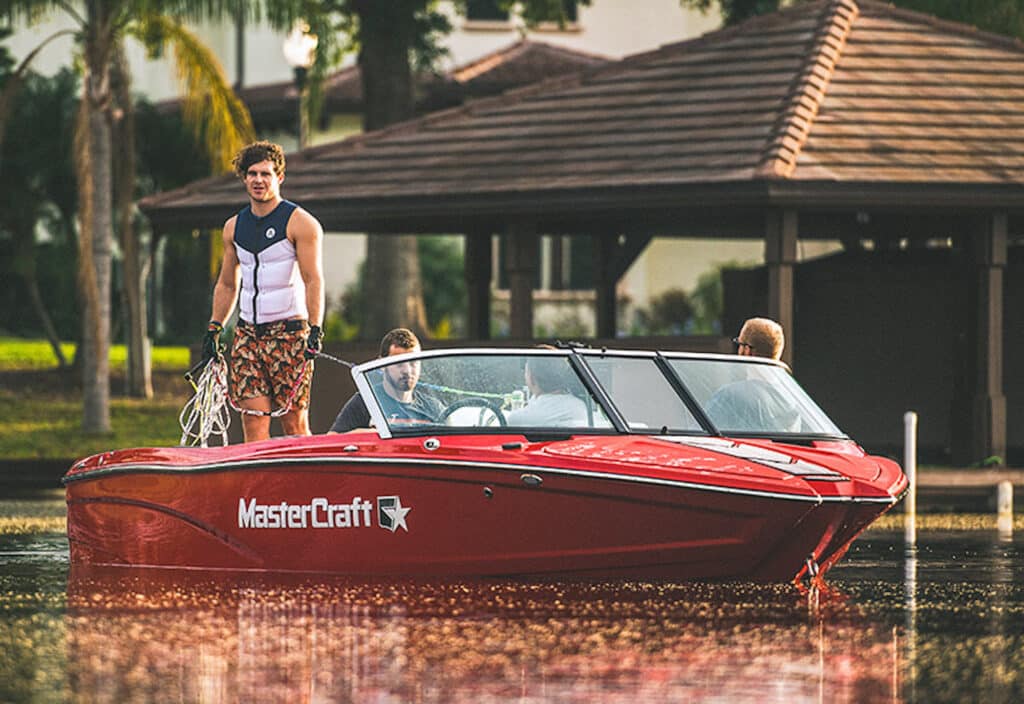 Transitioning from your ski, to the boat, how long have you been a MasterCraft athlete?
I signed with MasterCraft at the start of 2015.
As a MasterCraft athlete, what's the best part about being on the team?
We have a tight team who get on pretty well. Honestly, and I'm a little embarrassed to say this, I grew up a ski nerd and a big fan of Freddy Krueger, so getting his insights on water skiing has been very cool. I nearly killed him through poor boat placement while he was skiing at a photo shoot this year. Took a while for my heart to stop beating after that.
Regarding your boat, how do you set your ProStar up for skiing? Profile settings, weight, engine size, etc.
We've been doing top secret testing on the 6.0 liter engine at The Boarding since the end of last. I'm very excited about the improvements that we've found vs the previous engine. I usually chuck a few bags of lead on the opposite side of the driver (usually Travis Moye) to even the boat out. If you want to get really nerdy, I use the A2 Zero Off setting. And that's how I ski every day.
What's your favorite feature about the ProStar?
The screens great but I'd say the side ski holders are just so much better than anything else out there to keep things tidy. The ProStar has a lot of space in it around the engine box for movement around the boat, and the racks only improve that as you're not tripping over skis. I hear that a few times a week from customers at The Boarding School.
Apart from being a professional water skier, you're also an instructor at the Boarding School. Needless to say, you have a pretty direct connection to the water ski industry. Where do you see the future of slalom skiing going? Are there any trends you're noticing?
Since I started at The Boarding School in January 2017 we've seen a huge increase in skiers come through the door. I'd like to think that's got something to do with people realizing how good it is, but I also think skiing is on the way back a little. We see a lot of people who don't want to go 10 feet in the air on a wakeboard anymore, come back to or even start skiing. Also kids seem to be just as pumped to go skiing as they are to wakeboard, which I know wasn't the case ten years ago. Also, with the crossover boats we're seeing people can ski behind non skiing specific boats. On the competitive side I'm in the midst of 7 tournaments in 6 weeks in Europe. This year could be the first time that Europe outdoes North America for pro events. Its very exciting that Europe is stepping up but I'm hoping we'll see the USA rise to the challenge.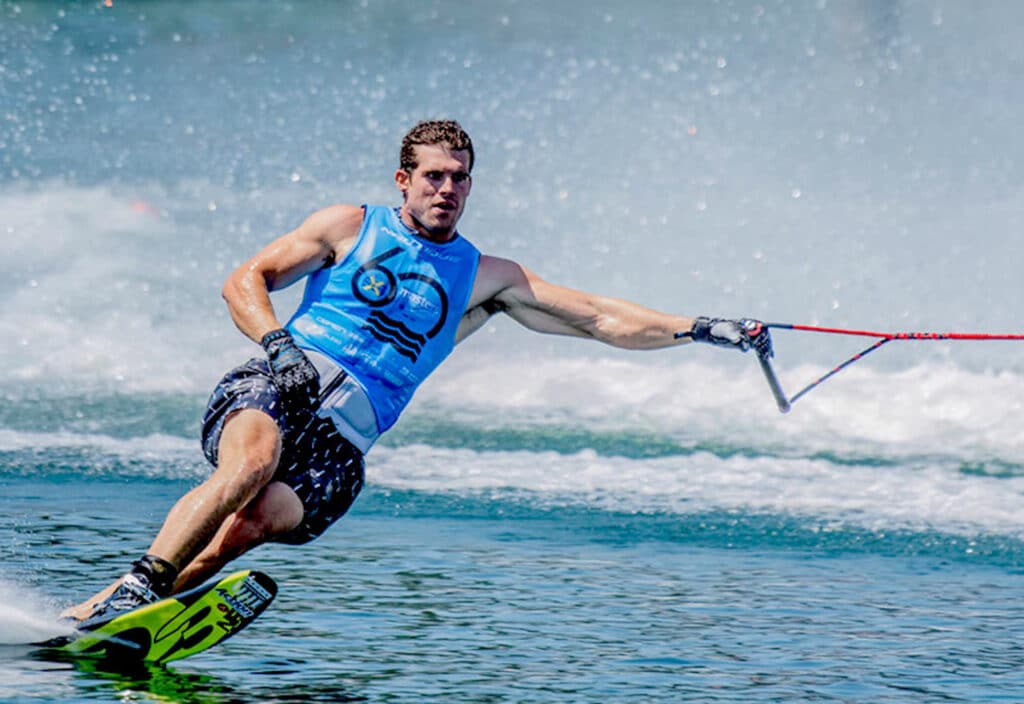 What would you say is your greatest water skiing achievement?
Hands down winning the World Championships two years ago. That was always my biggest goal in this sport and nothing in my life has ever been sweeter than winning that.
We're obviously thrilled to have you as part of our Action team. Is there anything you're looking forward to now that you're part of the Action team?
It's been great having Action just down the road from Orlando. They've moved in and made us at The Boarding School, and me personally, feel very much a part of the family very quickly. Being a MasterCraft guy, it's exciting for me to see a big push for the brand happen in the so called 'Home of Water Skiing' and of course I want to do my bit along the way.
And finally, the most important question. What type of animal best describes your personality and why?
As wise as an owl, as strong as an ox, as lazy as a sloth, as nocturnal as a badger, as water-based as an otter.