What do you picture in your mind when you think of a pontoon boat?
Are you thinking of a big, cumbersome platform that's only good for cruising slowly on flat water? We don't blame you—that's what pontoons were known for.
Fortunately, some things have changed. Modern pontoon boats have distanced themselves quite comfortably from their early predecessors.
In this article, we'll talk about modern performance benefits, multisport versatility, ease of driving, better construction, and power—lots more power.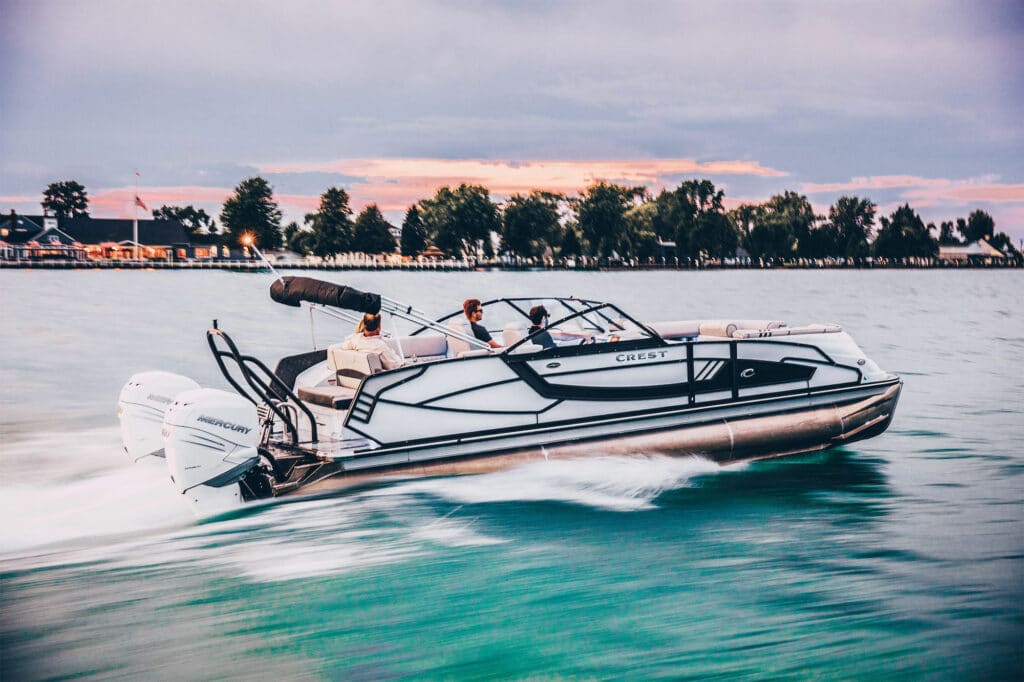 Pontoon Boat Performance
Yup—there's an elephant in the room, but it's not your pontoon. It's the power we're now able to experience with the option of bigger motors. Of course, you can go as modest or manly as you'd like in this department.
If you're interested in pulling a wakeboarder or waterskier, then set yourself up with a 150hp motor and get ready for some exceptionally good times. Jump up to a 200hp and you'll really feel the boat start to wake up.
Go as far north of that as you'd like—the size of your grin will increase proportionately.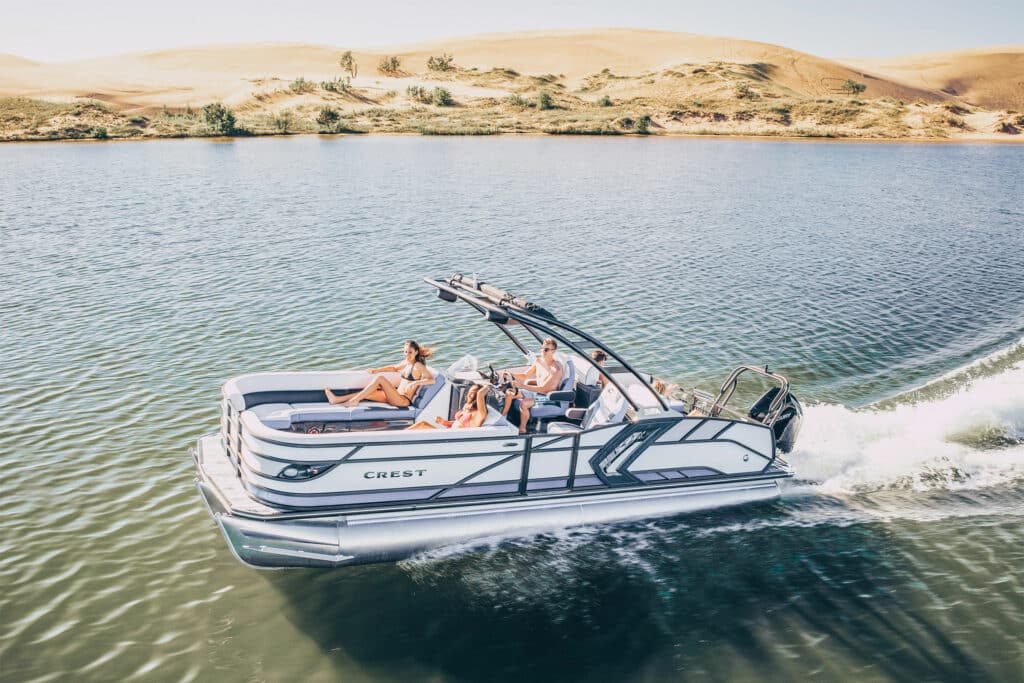 Pontoon Handling
When was the last time you used the words, "pontoon" and "handling" in the same sentence?
As we were just mentioning, you can always up the horsepower for straight-line fun. But, did you know that modern pontoons can also lean into a pretty decent turn? Crest Pontoons use lifting strakes to add planing efficiency to their boats. These strakes also cut through the water and offer much-needed traction when turning at speed.
In addition to that, you'll appreciate the added benefit of features like power assist and trim assist. What used to be like driving a semi-truck is now just like turning your car. Responsive and easy.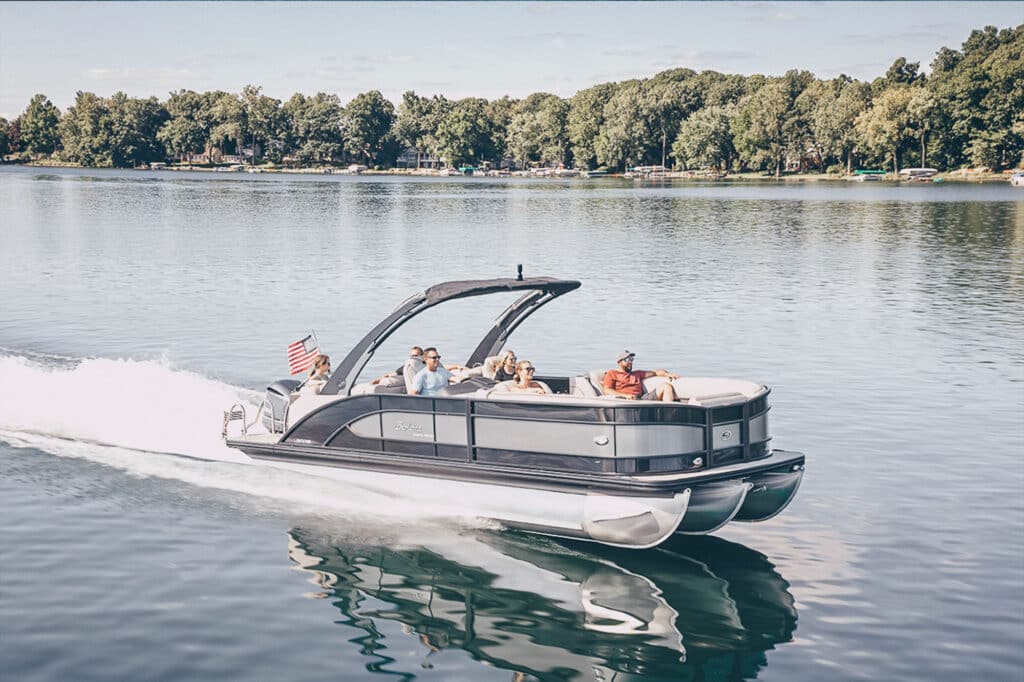 Quality Pontoon Boat Construction
While the general structure of a pontoon boat isn't overly complex, there are always ways to improve. Barletta, for example, does this by building their pontons from .090 gauge aluminum. They are thicker, larger in diameter, chambered, pressurized, and feature heavy-duty baffles. This translates to peace-of-mind, knowing that your pontoons will hold up and stand the test of time.
Barletta alternates a "Hybrid Crossmember Box I-Beam" and "Oversized C-Channels" to create their deck support structure. "Heavy Duty M-Brackets" connect the pontoons to that decking with "Vibration Isolation Pads" sandwiched in between.
Crest has been building quality pontoons since 1957. Featuring durable aluminum alloys for the pontoons, with 0.10 thick 48″ nose cones, and 0.125 thick end-caps for extra muscle and protection.
We certainly don't expect you to understand the engineering terms, but please know that their implementation translates to one heck of a smooth and quiet-riding boat.
See also:
Five Innovative Features of Barletta Pontoons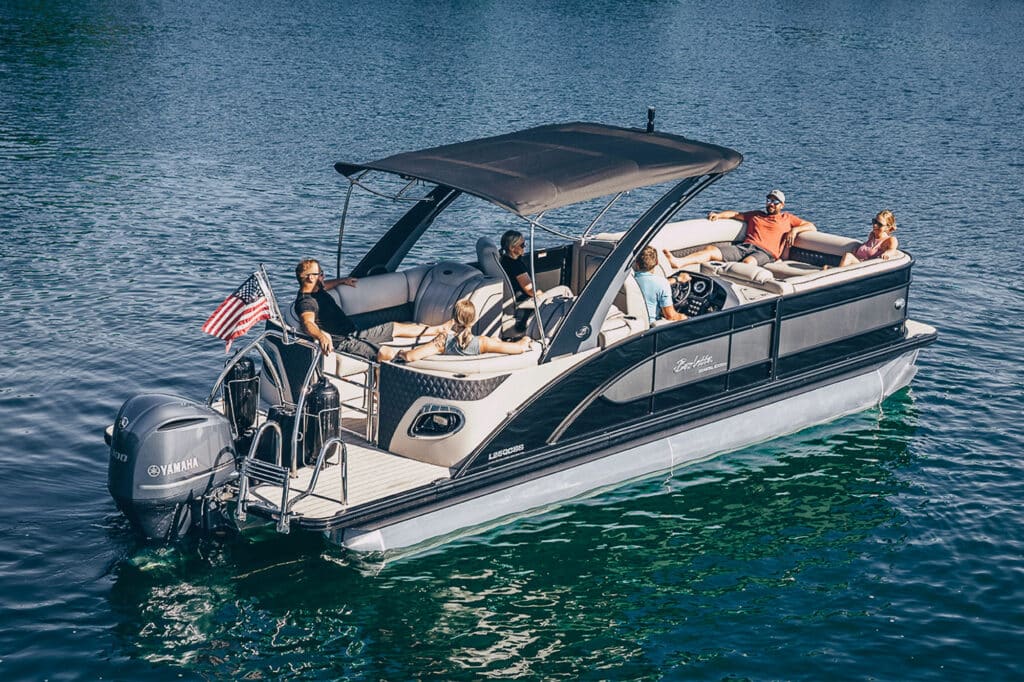 The Comfort of a Pontoon Boat
One of the major benefits of owning a pontoon boat has always been the ability to bring your whole darn squad out for a day on the water together. Of course, you can still do that today—it's just way more comfortable than before.
Furniture and upholstery on premium pontoon models rival that found in suburban man-caves and she-sheds everywhere. Come aboard and have a seat in a Barletta L-Class or Crest Caribbean. You won't believe how soft and supple the upholstery is.
Take a seat at the helm of any Barletta and you'll quickly notice some key features that will keep a smile on your face all day long.
Did you bump your knees when you sat in the Captain's chair and swiveled to face forward? Nope—not a chance. Barletta has taken great care to ensure that even a Sasquatch could slide into the driver's seat and get underway in comfort. Leg-room for days.
Even simple considerations like throttle placement are done with great intention. Lean back a little. Stretch your legs out. With one hand on the wheel, your other will fall naturally into place, with your elbow resting comfortably on the armrest. Check your six, turn the key and slide into gear, my friend. You're about to enjoy a great day on the water.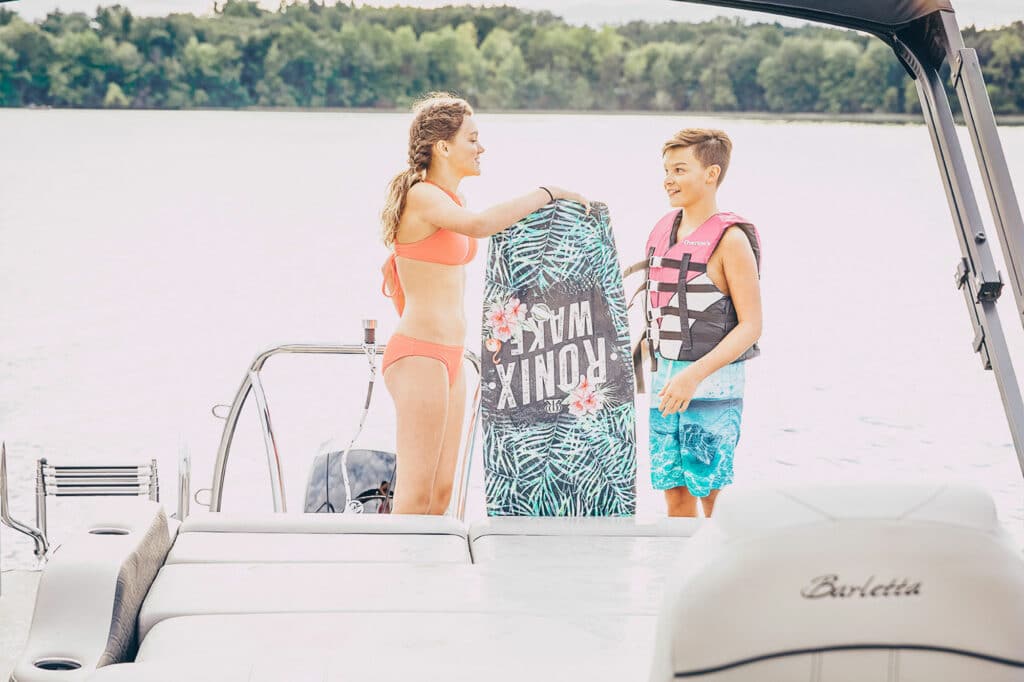 Water Sports with Your Pontoon Boat
If sharing the water sports lifestyle with your family is important to you, then take comfort. Crest and Barletta Pontoons both feature options for additional horsepower as well as heavy duty tow-bars and plenty of storage for gear.
As mentioned above, a 150hp motor has plenty of power to pull a waterskier or wakeboarder.
As always, we thank you for joining us and hope you found this article to be helpful in your decision-making process.
Please connect with your local Action Water Sports with any questions you may have. We're always happy to help!
Barletta Pontoons
AWS of Traverse City (231) 943-3434
AWS Hudsonville (616) 896-3100
AWS Central Florida (863) 576-2288
Crest Pontoons
AWS of Fenton (810) 629-1342