UNVEILING THE NEW STANDARD
We've received one of the first ever 2018 MasterCraft XStars and couldn't be more impressed. It's mind-blowing how they've packed so much punch in a 23 foot boat. Check out our day on the water with it in the video below and dive into our interview with wakeboarding icon, Josh Palma!
OUR XSTAR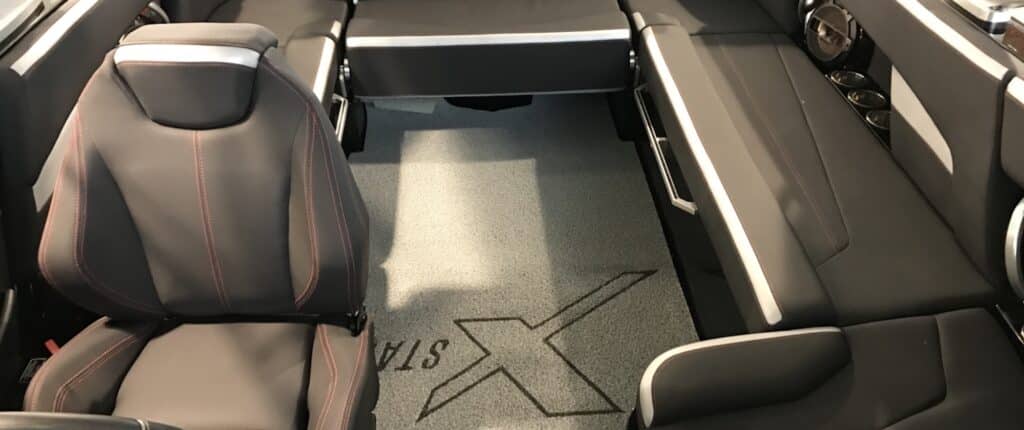 JOSH PALMA'S THOUGHTS
What was your involvement in the production of the XStar?
Since about 2014, I've become increasingly more involved with the product development and innovation team at MasterCraft. I primarily work with the engineers to create model charters that outline the performance characteristics that will best satisfy our customers' needs for surf, wake, and ski. It's my responsibility to verify/validate that new models coincide with the charters we establish. Essentially, I make sure that the wake/wave performance is on point with each new model we develop.
How long has MasterCraft been working on developing this boat?
The 2018 XSTAR was over three years in the making. It began in a tow tank with a small scale model. Then we spent about two years validating a full-scale hull at the factory in Vonore, TN.
MasterCraft's new XStar is a foot shorter than its predecessor. Why shorten the boat?
Over the years, we have found that 22.5-23.5 feet seem to yield the best results for world-classwake/wave performance. Hulls this size are ideal because they provide a big enough footprint to push lots of water but are not so large that displacement results are negatively affected. They represent the happy medium. Also, because of the design of the new picklefork bow, we actually lost very little functional space going from 24ft to 23ft.
There's probably a lot to choose from, but if you had to pick, what's your favorite new feature on the boat?
We can go from a world class wake for Harley's double flip lines to the best beginner/intermediate wake in the industry in less than three minutes with the new FastFill ballast technology. That's honestly what I'm most proud of about the 2018 XSTAR. It took years of hull modifications to provide an incredibly approachable wake for beginners without compromising anything at the top end. Consequently, my short tagline for the boat is often "versatility without compromise." Oh, and the previously mentioned hull mods are also why we now have the longest and most forgiving landing zone in the game.
A lot of effort went into making the XStar the pinnacle boat for elite water sports athletes. With all that focus on how it will perform for the elites, does that mean this boat is not ideal for a family of novice enthusiasts?
The fact that a boat weighing almost 6,000 lbs can provide a clean wake at speeds around 18 mph is an industry first. Even when loaded with 4100 lbs, riders can still wakeboard at speeds in the 21-22 mph range. That creates a very forgiving wake for riders learning 3's, 5's, inverts, and even their first mobes. Being able to ride a bit slower accelerates progression by making the learning process less painful. I often pull Harley with 4100 lbs and full passenger capacity (that's well over 6000 lbs of people and ballast!). Even with that weight, we can ride around 22 mph. All I can say is…get ready for some wake to wake double mobes!
The previous XStar (or really any XStar for that matter) was not known for its surfability. How will this new boat stack up in an industry that's so surf focused?
Great question. This was a significant challenge for us. Create the best and most versatile wakeboard wake in the world without leaving anything on the table for surf (due to recent industry trends). That's why I felt so strongly about using the X23, which has been the industry's surf standard for several years now, as our baseline. Thanks to the 4100 lbs of stock ballast and our innovative transverse ballast tank, we were able to achieve a surf wave that's as good as our X23 in our flagship wakeboard boat. The X23 might still have the XSTAR on wave length, but the height of the XSTAR wave is very impressive even with only a couple people in the boat.
Alright, the question I care most about. I assume I already know the answer, but how's the wakeboard wake on this thing?
As I already mentioned, the truly unique thing about the XSTAR is that it will spur progression among the world's top wake athletes while simultaneously making the sport more approachable for new riders. The XSTAR has effortless, long transitions with a consistent lip that will put you on a different trajectory than you've ever experienced. The lengthy transitions make takeoffs predictable and landings forgiving even when running the full 4100 lbs of ballast.
I was informed the angle of the prop shaft was increased a couple degrees. What's the reasoning behind this?
Since the boat is almost 6000 lbs and stock ballast is 4100 lbs, this thing needed some serious thrust. Thankfully, our propulsion engineers determined that by swinging an 18 inch prop in conjunction with our single/triple tab autolaunch system, we could carry that weight without an issue. The steeper shaft angle gives us more clearance to run the larger prop and it helps control/quiet the prop wash by projecting it deeper into the water.