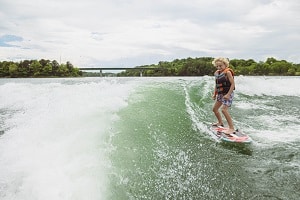 Duration
Tuesday and Wednesday
9am-1pm
Location
Boatwerks Waterfront Restaurant on Lake Macatawa
216 Van Raalte Ave, Holland, MI 49423
About
Drop the kids off at the lake for a day of surfing and riding in the boat with friends, making memories they will never forget! Our captains will provide personalized instruction to all the riders to help them get the most out of this wakesurf experience!
More Info
Each of our captains are highly qualified and dedicated water sports enthusiast. From being able to maneuver the vessel to make it as easy as possible getting up while wakesurfing, to coaching any trick you may want to learn throughout your time on the boat.
Qualified Captain/Coaches
CPR Certified
USCG Approved Equipment
Experience of a lifetime
What to know/bring
Campers should bring/wear a bathing suit, towel, sunscreen, extra snacks and water.
No lunch will be provided during the boat day.
Please arrive 15 minutes prior to your reservation!