The NXT, XT, and X series were all designed with specific functions in mind, but before we expand on the differences between each series, let's focus on what all of these boats have in common. In other words, let's focus on what makes each of them a MasterCraft.
What qualities do they share?
No matter what series MasterCraft we discuss, every boat is built in the same plant and is meticulously put together. Top materials are used on every MasterCraft. From gelcoat to underwater gear and from ballast to fuel tanks, no series is stripped of quality. When it comes to performance, Ilmor is the only engine you'll find in a MasterCraft. To keep your pull consistent, Zero Off is standard throughout the lineup. Let's not forget, a day on the water wouldn't be complete without some tunes, and no matter what series you're in, Klipsch Audio is providing the party. Lastly, they are all backed by a 5-year bow to stern warranty with 7-year, 1,000 hour warranty on the Ilmor Engine.
So now that you were briefed on what makes a MasterCraft a MasterCraft, let's dive into the distinct differences between each series.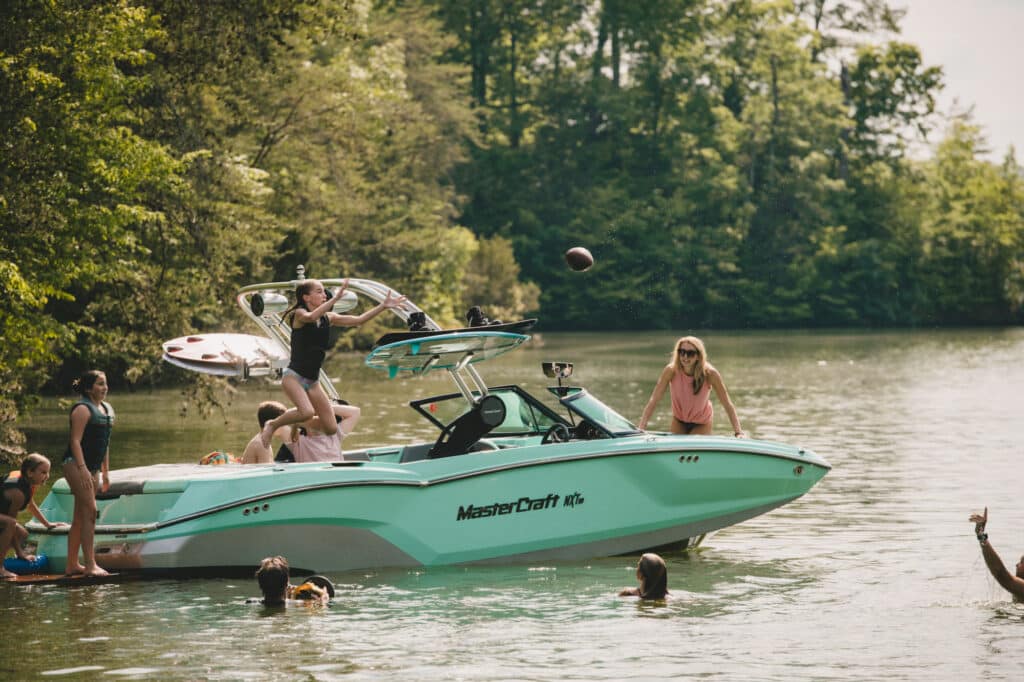 THE MASTERCRAFT NXT SERIES
The NXT family is MasterCraft's sporty, multi-sport series. The NXT is capable of taking on any water sports activities you want to throw at it. Available in 20, 21, 22, 23, and 24-foot lengths, the NXT series is at home on nearly any inland lake. Compared to the XT and X Series, the NXT is different in a few areas:
Towers
The NXT Series is only available with the Z6 tower, MasterCraft's base offering. This billet aluminum tower mirrors the styling cues of the upgraded Z8 and Z10 towers and offers identical water sports performance. And for model year 2022, say goodbye to bungees with essential clamping board racks on every MasterCraft tower, including the Z6.
While all three towers can easily be lowered and raised by a single person, the Z8 and Z10 have improved manual operation compared to the NXT's standard Z6 tower. The Z8 tower debuts MasterCraft's patent-pending Hydro-Lock technology, making it is the easiest manual tower to operate in the industry. The Z10 power tower to make maneuvering your tower even easier. So if you're looking for tower upgrades, consider the XT or X family.
Interior
As you scan the interior of an NXT, the quality and craftsmanship are apparent; however, each MasterCraft series has different styling. The NXT series interior is intentionally simple. In exchange for more patterning options, MasterCraft opted to focus all of its attention on quality. Rotocast seating, oversized brackets, top-shelf upholstery, built-in UV protection, mildew resistors, stain resistors, and more, the NXT interior looks good and feels great season after season. Plus, the NXT's sleek gauges, intuitive analog switches, and a standard 4.3" LCD screen at the helm make getting behind the wheel a breeze. Less confusion, more enjoyment. But if you're looking for more creature comforts like contoured rear bench seating or dual-screen dash options, the XT and X series are all about upgradable options.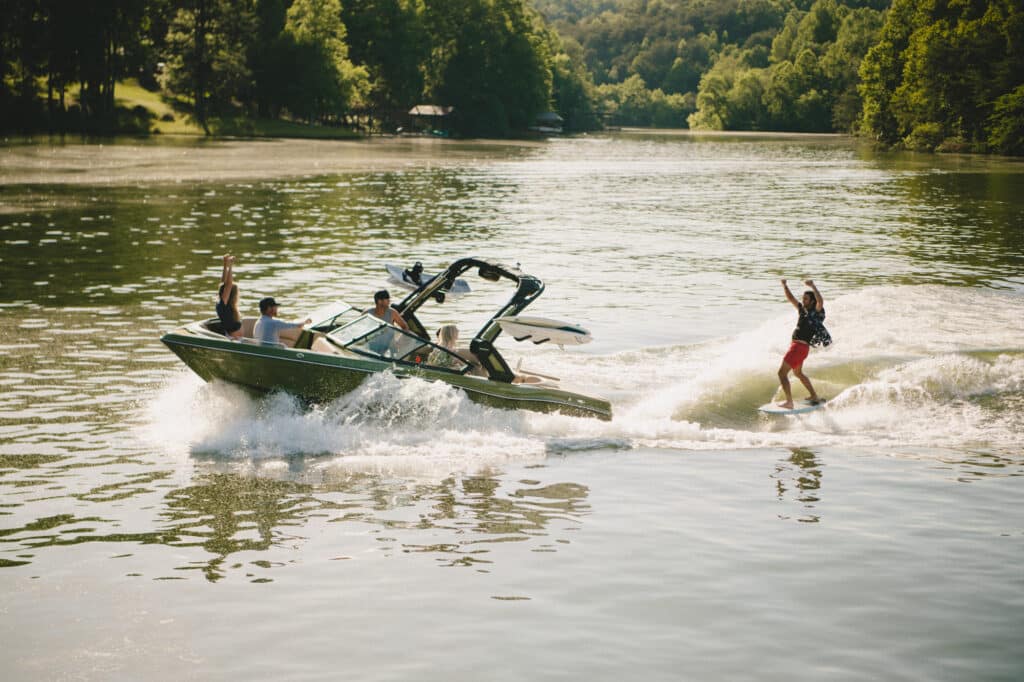 THE MASTERCRAFT XT SERIES
The MasterCraft XT Series represents premium multisport versatility. With five different size options ranging from 20 to 24 feet, there's an XT Series perfect for any size lake. And like the NXT series, the XT family is capable of any water sports activity but is packaged with even more creature comforts and automated luxuries.
Upgraded interior
Quality craftsmanship is apparent on every MasterCraft interior, but available creature comforts are the tipping point between the NXT and XT. In the XT Series, you'll find ergonomically sculpted seating that provides unmatched comfort. A pallet of colors, upholstery, stitching, and flooring options grant you the opportunity to design an interior that is truly one-of-a-kind. And options like sundeck seating and CoolFeel vinyl are the cherry on top of an already improved interior. Plus, the XT23 and XT24 come with all-new transom seating for model year 2022. Relaxing has never been so easy.
Endless options
The XT series delivers on options and has earned its title as the most flexible series on the market. Options for color. Options for comfort. Options for size. Whether you prefer a smaller boat with a serious wave or a larger model with loads of space and comfort, the XT family can suit your exact needs. With options for FastFill, supreme clamping board racks, dual-screen dash, and more, the XT models are game for anything and everything. Continuing down the path of customization, the XT Series opens the door to tower options. While the Z6 still comes standard on the XT series, you can upgrade to the Z8 or Z10 tower, and don't forget you can color customize your premium tower and BTS windshield.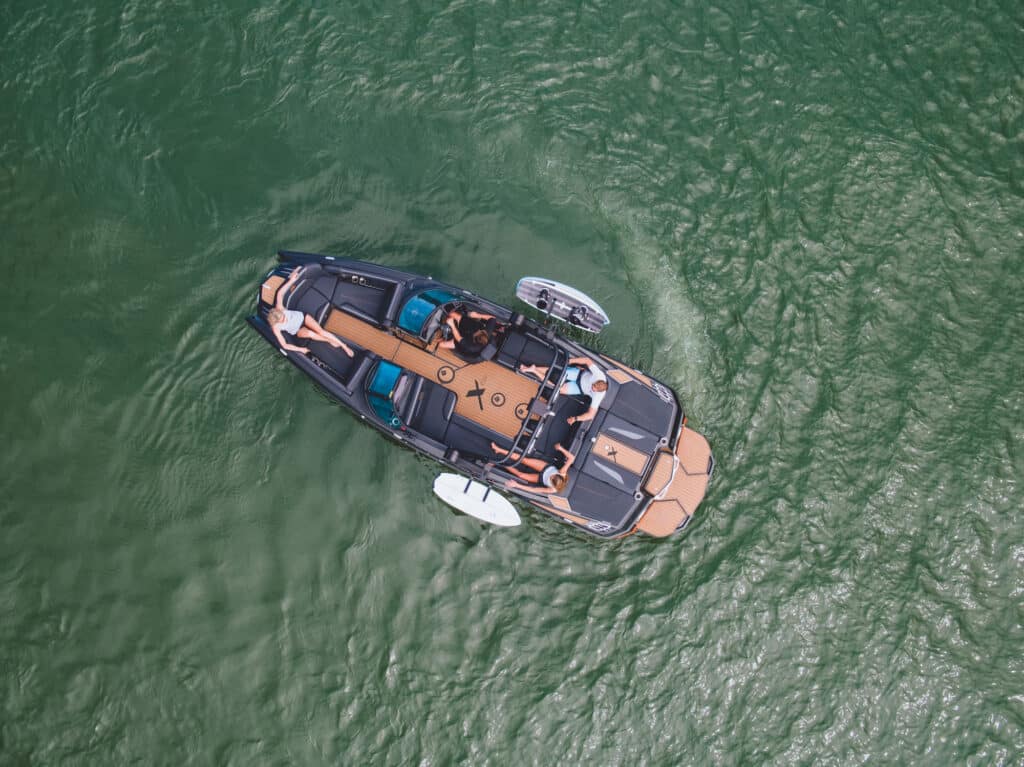 THE MASTERCRAFT X SERIES
Refinement and sophistication meet performance and power in the X series. You will get the best of the best, no matter what X model. Sport-tuned, fully automated, highly customizable, and optioned to the max. It's all premium, everything from bow to stern.
Sport-tuned
Skip the slalom ski because the X Series was designed with one thing in mind—to make a giant wake. The combination of athlete research and development, individually tuned hulls, upwards of 4,300 lbs. of ballast, and the SurfStar System makes for the industry's premier line of wakesurf boats. And wakeboarders, MasterCraft didn't forget about you either. The X Series of boats makes the perfect launchpad for those looking for a thrill even further behind the boat.
For any skill level
As stated before, the X Series was designed to churn out the industry's absolute biggest and best waves. But don't let that statement intimidate you if you're new to the sport. Before the X Series was released on the market, it had to pass an extensive athlete validation process that included usability for all skill levels. When you get into an X series, you can fine-tune the wakes to match any ability level. From first-timers to seasoned veterans, an X series model is guaranteed to put a smile on the face of everyone on the boat.
Ultimate interior
Modern conveniences such as wireless phone chargers, premium upholstery, and a custom-tuned Klipsch stereo system deliver the ultimate on-water experience in the X series. Ergonomic transom lounge seating makes for the most comfortable seat in the house. And the deep-v hulls, pickle-fork bows, and unparalleled fit and finish make this line the most comfortable, dry, and luxious ride in its class.
Switchback ballast tank
An industry first, MasterCraft's patent-pending Switchback Ballast Tank (standard on X, XStar, and XStar S series) ensures crisp surf waves, no matter how your crew is positioned throughout the boat. Its perpendicular orientation rapidly moves water from port to starboard—and back again—ensuring that the appropriate amount of ballast is positioned on the surfer's side of the boat. Boats with the Switchback Ballast Tank serve up bigger, longer, and cleaner waves with the largest surfable sweet spot in the industry—period. There's simply not another surf wave like this behind a towboat.
Stern thruster
MasterCraft's new stern thruster takes the frustration out of docking giving drivers the convenience of rider pick-ups and putting your boat on a trailer. The stern thruster is integrated onto the rotated throttle where rotation direction matches the movement of the boat. The stern thruster is available on all X, XStar, and XStar S models.
THANKS FOR READING!
Feel free to contact your local Action Water Sports with any additional questions you might have about the NXT, XT, or X series. We are always happy to help!